Courtesy of Guest Blogger: Jena Knowles
I've been traveling all over the country with my husband to rodeos for years, and one of the most fun parts of going with him, aside from cheering him on and being his number 1 fan, is getting the chance to dress up. See, when we aren't at rodeos, we are at home on our ranch in small town Oregon. Honestly, the cows don't care how I look, as long as they get fed. So anytime we hit the rodeo trail, you know I'm taking full advantage of the chance to dust off my turquoise and get dressed up! We're headed to RodeoHouston so I'm going to share my outfit planning tips and tricks. Let's get started!
1. Start with one piece you're dying to wear
When putting an outfit together, I always start with one piece. It could be anything. Sometimes it's a pair of jeans, sometimes it's a cute top, sometimes it's a piece of jewelry and sometimes it's a new pair of shoes.
Let's say the piece I choose to start my outfit with is a pair of booties, I'll decide what bottoms showcase them the best. In this case, I'll likely wear a pair of skinny jeans, a skirt or a pair of shorts. I'll then select the top based off the bottoms I choose. I personally like to pair something fitted with something loose. So if I'm going to wear a fitted pair of jeans, I'll wear a loose shirt, and vice versa.
2. Try on session!
I never pack an outfit before trying it on first. I might dream up a fabulous outfit in my head, but at least half the time I try that dream outfit on and it doesn't look how I planned. So I stick with that starter piece and switch things up until I get the look I want. If you start with a top and aren't happy, try:
Different jeans
Skirts
Shorts
Leggings
Adding a jacket
Adding a belt
Tucked in/untucked, only tucked in the front
I continue this until I am happy with the way my outfit looks. Sometimes just a few quick minor changes can completely transform a look; like a tuck, a necklace, or some rolled up sleeves. Once you've nailed it, snap a quick mirror pick and move on to the next outfit. At the end, I'll explain why a mirror picture is an important part of my outfit planning.
Let's go through some of my outfits and why I put them together the way I did.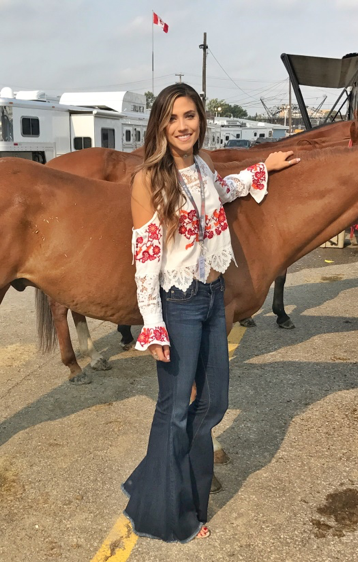 For this particular outfit, I started with the top: a detailed embroidered, loose fitting crop top. I didn't want to take away from the details of the top so I paired it simply with a pair of bell bottoms, a comfy pair of nude heels, and a choker necklace.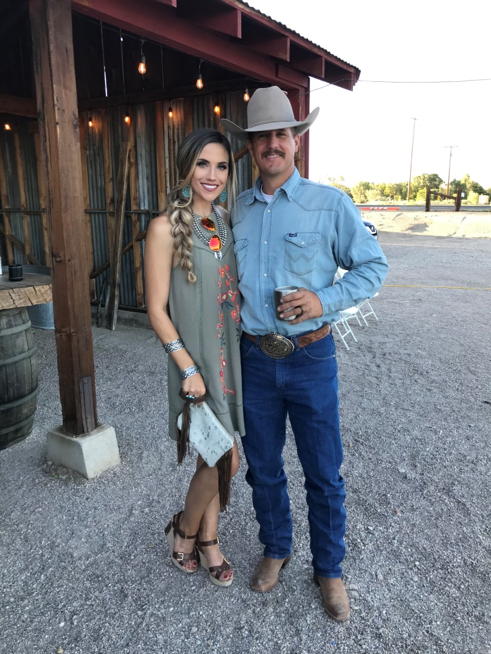 This outfit I started with the dress: a neutral green loose fit with embroidered detail down the front.  I paired it with a comfy pair of wedges, a small silver squash blossom necklace, simple silver bracelets and turquoise earrings. I normally might add a concho belt with a dress like this to give me more shape, but this was a wedding and I knew I'd be dancing. I didn't want to spend all night adjusting my belt and pulling my dress down. So simple and comfy it is!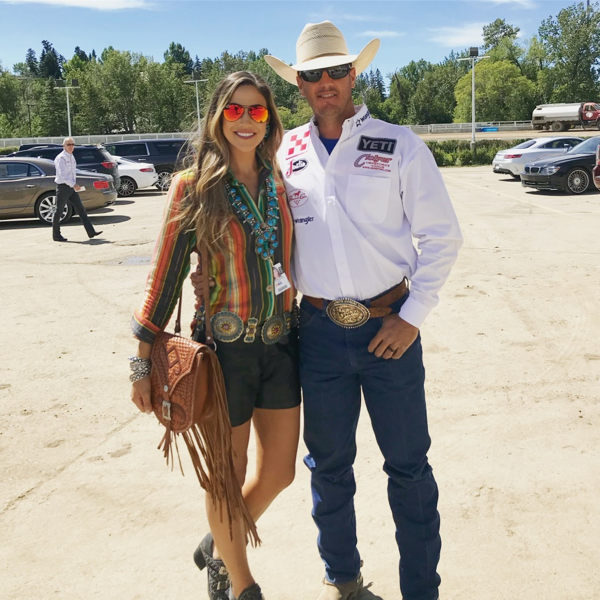 Here I started with this fun serape long sleeve shirt. I paired it with a colorful concho belt, turquoise squash blossom, some comfy faux leather shorts, and of course, comfy booties. I left the back of the shirt untucked with the concho belt over it, and rolled the sleeves.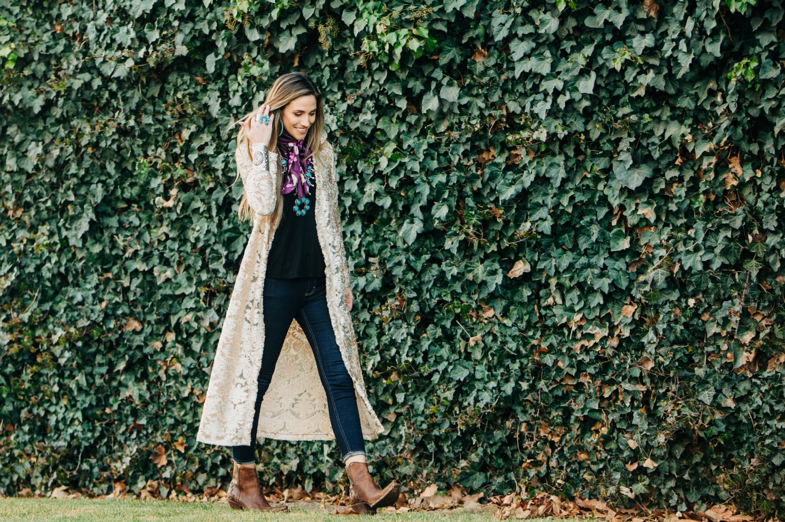 For this outfit I started with the velvet duster. It is so fun and detailed I didn't want to take away from it. So I paired it with a black tank top, dark skinny jeans, some booties, a squash blossom and a wild rag for a pop of color. To switch this look up for warmer weather, I'd trade the jeans for a pair of denim shorts, and a pair of wedges, and ditch the wild rag.
3. Comfort is key
If you haven't noticed already, I'm all about being comfortable! There's nothing worse than having to bum a piggy back ride out to the truck because you made a poor shoe decision. Trust me, I've been there. So if you can't survive the event in those shoes, leave them at home. I don't care how cute they are.
Same goes for any other pieces you might want to wear. If the jeans are so tight you're going to spend all day with a stomach ache, leave them at home. If the shorts are so short you're going to spend all day pulling them down, leave them at home. I try to set myself up to have as much fun as possible without having my outfit serve as a barrier.
4. Tips
Take a picture of your outfits! This saves so much time when you're traveling. I always take a picture of my outfits in the mirror, that way I know exactly how it's going to look.  I can just flip open my phone and pick my outfit for the day in a matter of seconds. If I forgot to take a picture when I try the outfit on, I'll just take a picture of it laid out before I pack, that way I remember what I paired it with.
Traveling with jewelry. I always wrap my jewelry in a small scarf or towel and place it in a Tupperware container so it doesn't get broken or smashed in my suitcase. If I'm flying somewhere, I usually either wear my more expensive pieces, or pack them in my carry on. I'm not taking any chances of a lost bag!
Always check the weather before you start planning your outfit!
Bonus tips, because I want to be real with you….
– Eat too many Valentines treats and your pants are giving you a muffin top? Throw on a duster and hide it!
– Love the way your jeans or shorts look from the front, but hate the back? Hello, high-low top!
I hope these little tips and tricks help make planning your next outfit a little easier. If you're having trouble, I'd be happy to help you. Catch me over on Instagram, @jena.knowles.
– Jena
Ready to put together your next great outfit? Start shopping!