Nashville, Tenn. (March 7, 2019) — MCA/Universal Nashville recording artist Clare Dunn made a splash at two high-profile events over the last two weeks. The artist, dubbed "absolutely magnetic" by Rolling Stone, delivered a powerful halftime performance during the Dallas Mavericks' Country Night, presented by Budweiser, on February 22nd.  The CMT Next Women of Country alum — who joins Cassadee Pope and Hannah Ellis on the road next month — performed a four-song set at American Airlines Center, bringing the crowd to its feet in applause as she closed.
Cassadee Pope, Clare's 2019 CMT Next Women of Country Tour-mate says, "Clare Dunn is just phenomenal and has been really grinding it out over the last few years. I've always looked at her as such a hard working woman in music, so I'm really excited to go out on the road with her and see her in action."
A passionate live performer (lauded by The Boston Globe for her "big voice and serious guitar prowess"), Clare followed that arena standing ovation with a performance she's dreamed of: a spot on the stage of RFD-TV's The American — the world's richest one-day rodeo — before an audience of nearly 30K.
"I watched the very first American a couple years ago on TV, while on the phone to my sister, like it was a Super Bowl game. I think the idea of allowing 'unknown' and underdog western athletes to compete on one of the biggest stages in rodeo is really cool. I think it's encouraging for anyone out there wanting to get into the sport — you have a chance if you have the determination."
RFD-TV's The American is an annual rodeo event held each year at Dallas Cowboys' AT&T Stadium in Arlington, TX. The American is now "the world's richest weekend in Western Sports" and pays out $2.35 million through a series of qualifiers, The Semi-Finals, and the final event: RFD-TV's The American. The event unites the top athletes in the world from the PRCA and pits them against underdogs who advance from The American Semi-Finals, together to battle for the biggest single paycheck of their lives.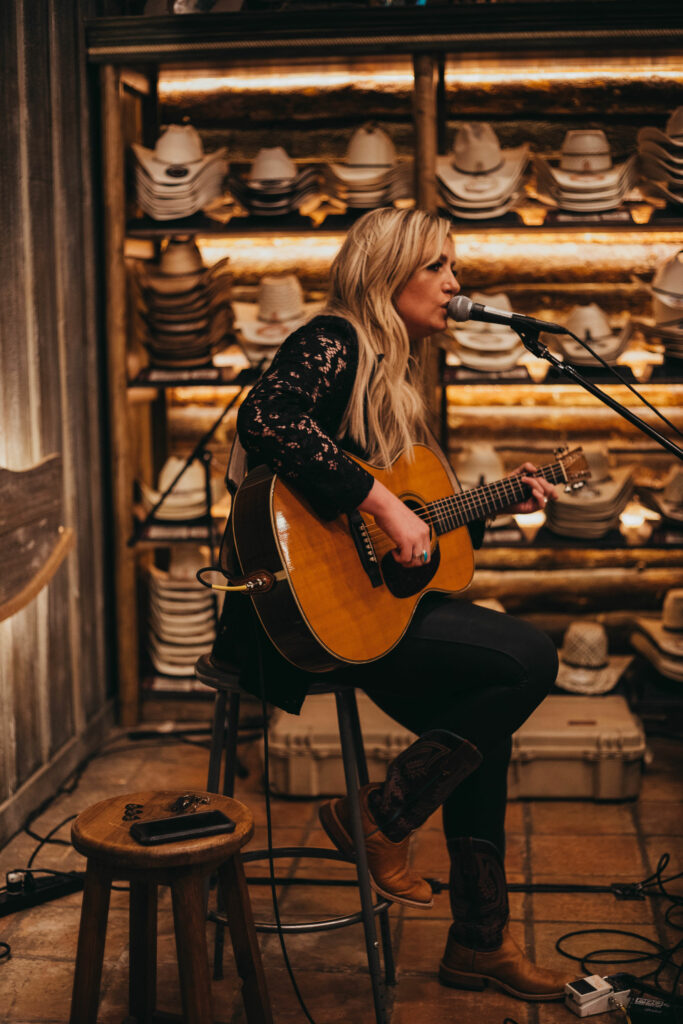 "Being a part of the Cavender's event this weekend was so cool for me. I've shopped at Cavender's since I was little so to have done an event with them before the rodeo was surreal – they're fantastic folks. Then to step on the American stage before 30k rodeo fans, was absolutely a blast!!! I loved every second of it and it was just an honor to play in front of all those hardworking people."
Prior to her Sunday, March 3 performance, Clare was a special guest at Cavender's "Kickoff for The American" party at the Cavender's Stock Yards store (Saturday, March 2). The event hosted top western vendors, media and fashion influencers from around the country. Clare performed an acoustic set and even had a duet partner — 3-year-old Lydia, the daughter of Rodeo Athlete Blake Knowles and wife Whitney. 
The 2019 CMT Next Women of Country Tour kicks off on April 11 in Tampa. A full list of dates and markets are listed below:
April 11 | Tampa, FL | Orpheum
April 12 | Orlando, FL | The Plaza Live
April 18 | Atlanta, GA | Terminal West
April 19 | Charlotte, NC | The Underground
April 20 | Lexington, KY | Manchester Music Hall
April 25 | Boston, MA | Paradise Lounge
April 26 | New York City, NY | Gramercy Theatre
April 27 | Washington, DC | U Street Music Hall
May 2 | Evansville, IN | K.C.'s Marina Point
May 3 | Des Moines, IA | Wooly's
May 4 | Columbia, MO | Blue Note
About Clare Dunn:
MCA/UNIVERSAL Nashville singer/songwriter Clare Dunn is known for her transfixing live shows, powerful vocals, and unparalleled guitar playing.  As part of CMT's 2019 Next Women of Country Tour, Clare will take her "big voice" (The Boston Globe) on the road with Hannah Ellis and Cassadee Pope to cities including New York, Atlanta, Washington D.C. and Boston. The Colorado native who "can do it all" (CMT) with "swaggering confidence and soulful vocals" (Rolling Stone) caught the attention of rock legend Bob Seger who, after hearing her sound check only once, invited her to open his Ride Out Tour. Clare has been named "One to Watch" by USA Today, Billboard, The Boston Globe and Rolling Stone.